Playful phrase pushes serious message for future development
Share - WeChat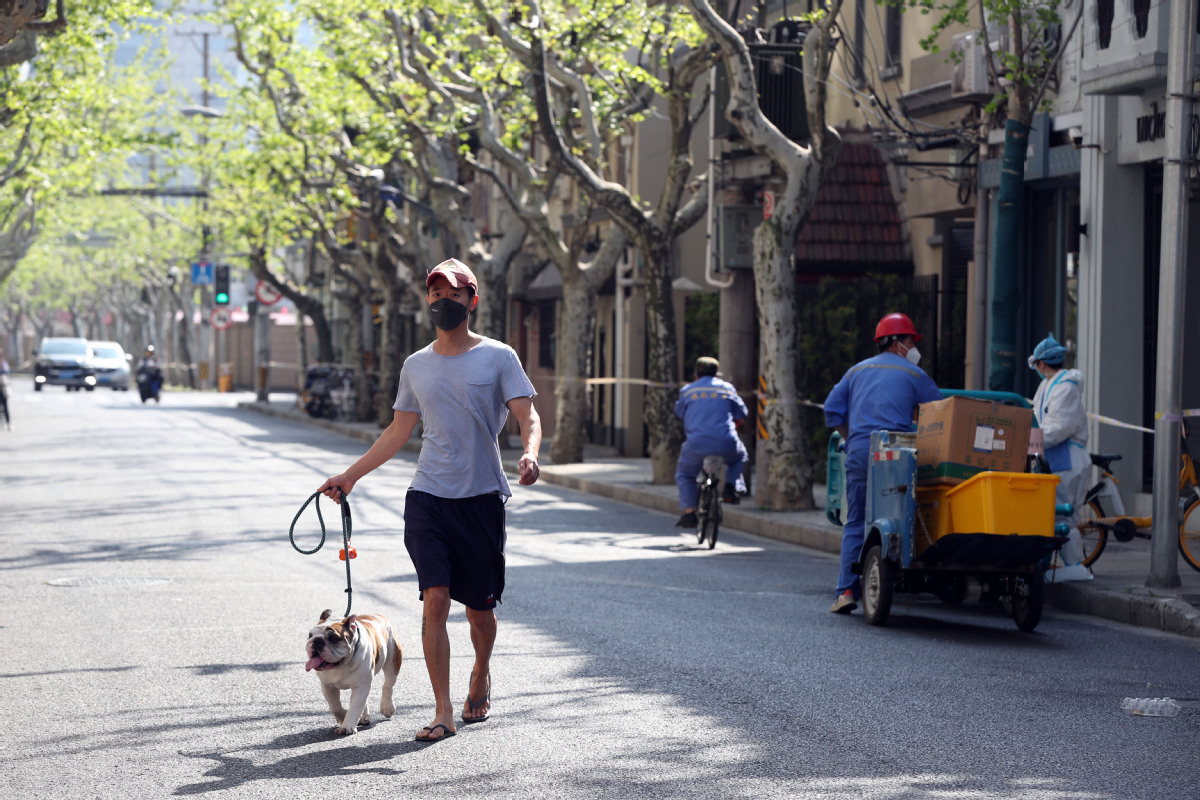 While Shanghai faces one of its greatest challenges in modern times as a result of the COVID-19 outbreak, a new expression has emerged in relation to buying a home-"food and grocery district housing".
The playful term relates to a community's location, quality and property services based on the life-guarantee services during the epidemic, which may inspire property developers in their future development and management, industry experts said.
During the city's lockdown, the distribution of food and vegetables has varied greatly from community to community in regards of response speed, maintenance of orders and resource distribution. In more specific terms, as food becomes the most important factor, the quality and quantity of distribution as well as ways of receiving items can fully reflect the quality of a community's management, according to Tang Hua, senior director and head of residential sales at Savills China.
"Property buyers will view it as one of the most important factors to determine the value of a specific property in the near future-namely food and grocery district housing," Tang said.
During the 12 days they were quarantined at home in Shanghai's Hongkou district, Zhu Yu and her husband received three rounds of food deliveries from their neighborhood committee, including a piece of pork, some vegetables, eggs and some cooked food.
Although their community is not one of the most affluent, Zhu said she felt satisfied and was lucky to live in the neighborhood. "So far, a friend of mine in Songjiang district has only received one food delivery," Zhu said.
After 14 days of quarantine, Lei La's family needed more fresh vegetables, fruit, rice and flour. The five-strong family received one food delivery from their neighborhood committee in the suburban Qingpu district.
Cheng Chong, an analyst with the big data research institute of Shenzhen Fangdd Network Technology, an online property trading service platform, said the jokey expression somehow reflects the fact that people's living requirements have shifted from basic living to essential comfort after decades of development, and they are paying more attention to the quality of life.
Such quality living requirements may provide product-development hints for industries engaged in residential development, smart furniture and residential property management.
Hui Jianqiang, head of research at Beijing Zhongfang-Yanxie Technology Service, said property developers with the ability to provide value added life services will win more favors after the pandemic has been contained, but real estate enterprises will need to cultivate the industry and supply chains deeply.
Tang said real estate businesses will be able to look to several factors for future development and operations. "In future developments, location will become more important. The pandemic has tested the efficiency of different neighborhood committees based on location. However, we need to say that there are communities with high property management abilities such as efficient pandemic control and delivery services located beyond the core areas. These communities will be more popular in the future," she said.
Developers and property management brands with high reputations will have a brighter future, and communities with "identified", or classified, residents will become more popular.
With regard to operations, factors including more practical property management activities, training of property management staff, and upgrades of daily management will receive more attention, she added.
According to global real estate adviser JLL, strong January sales allowed the sales volume of Shanghai's primary housing market to hit about 2.7 million square meters in the first three months of the year, a rise of 5.1 percent quarter-on-quarter.
Following a rise in supply in the previous quarter, the first quarter saw mass market new supply increase 10.7 percent quarter-on-quarter to about 2.7 million sq m. Most of the new launches occurred in January, prior to the Spring Festival holiday.
"We expect a stable sales performance in the primary market over 2022, although the recent outbreak means some sales activities planned for the first half of this year may slip into the second half," said Sheng Xiuxiu, research director of JLL China's residential department.