9 arrested in Changsha collapse of building
Share - WeChat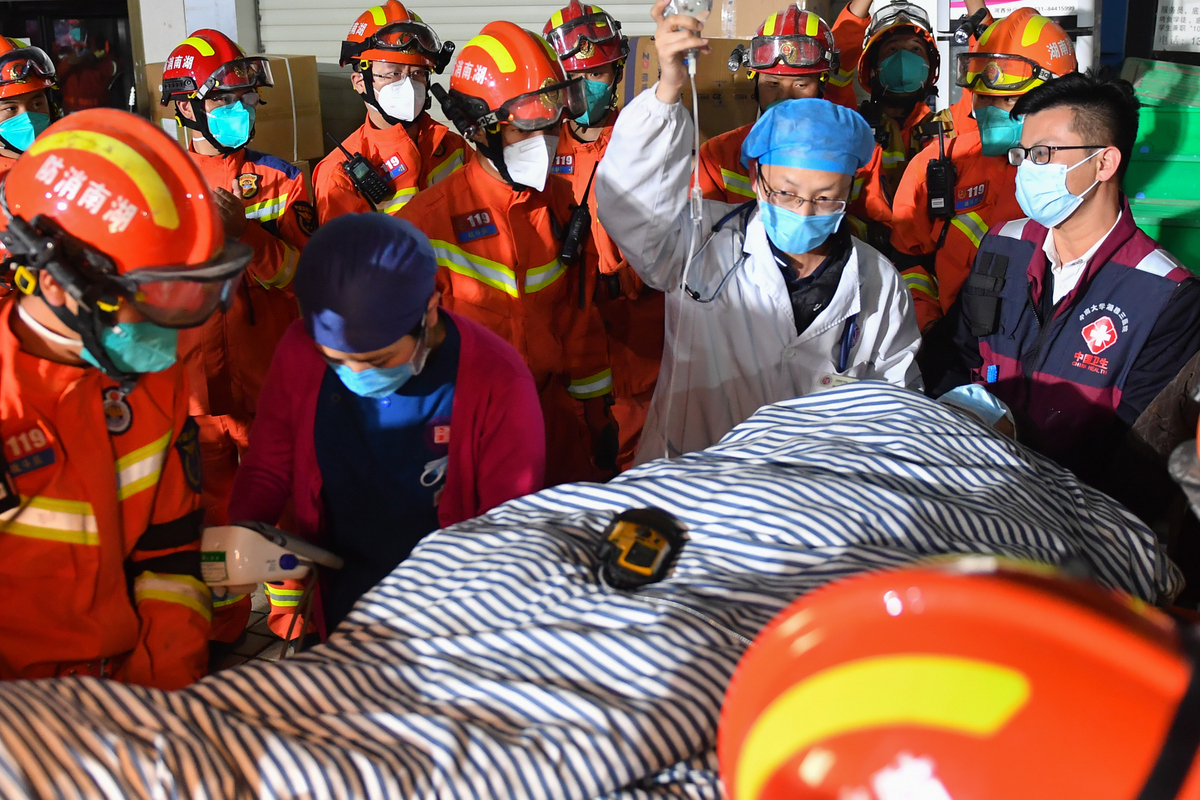 Prosecutors authorized on Tuesday the arrest of nine suspects in the collapse of a self-constructed building in Changsha, the capital of Hunan province.
Changsha prosecutors said the building owner, surnamed Wu, and three others responsible for the building's design and construction and were suspected of having serious liability in connection with the accident. Five people from a private engineering quality testing company, including its legal representative, surnamed Tan, and four technical employees were suspected of providing false certification documents.
The building collapsed on Friday, leaving 23 people trapped and 39 missing. The case remains under investigation and rescue work continues. As of Tuesday, nine people had been rescued and two people were confirmed dead.
President Xi Jinping called on Saturday for a "search at all costs, every effort (to be made) to treat the injured and proper management of the aftermath work". He also urged a thorough investigation into the cause of the accident and a special safety inspection to be carried out of self-constructed buildings nationwide.
Videos circulating online showed the building collapsed shortly after 12 pm on Friday, raising a huge cloud of dust and leaving a trail of rubble.
The Changsha government said at a news briefing on Saturday that the building had been built by residents and had eight stories. The first floor was occupied by shops, second by a restaurant, third a cafe, the fourth to sixth floors housed family hotels and the seventh and eighth were for private housing.
The edifice was built in 2012 as a six-story building, and two stories were added in 2018. Tenants made structural changes to the building, but the further investigation is needed to determine the precise cause of the collapse.
Authorities have dispatched firefighters, armed police and social forces of more than 700 people, as well as fire engines, cranes, power generators, life detectors and other rescue equipment.
A government official pledged at Saturday's briefing to "seize the golden 72 hours of search and rescue for trapped people at all costs".
Zhang Zheng, deputy chief of the Changsha Fire Rescue Department, said at a news conference on Sunday that the debris was tightly compacted and the structure of the building was complex, leaving very narrow space for rescue. Adjacent buildings were also severely damaged and the risk of collapse still existed. Regarding those buried in the rubble, he said their situation was unclear, and using large pieces of machinery in the search is risky and could cause secondary injuries.
Han Wendong, deputy head of the rescue team, told reporters on Monday that although the golden 72 hours had by then passed, the rescue team was racing against time and "would never give up until the last minute".
Huang Ming, minister of emergency management, chaired a video meeting and said "profound lessons" should be learned from the collapse, and that it is urgent to conduct comprehensive investigations to eliminate all kinds of safety hazards.
Huang said the current safety situation in building construction is "complex and serious" and major accidents may still occur. The Changsha accident also revealed a series "deep-rooted "problems.
Huang required emergency management departments at all levels to conduct immediate investigations for safety risks in buildings that were self-constructed, in order to strictly crack down on unauthorized construction, changes to the main structure and other violations and to resolutely prevent similar accidents.