Tourism returns to UK town after lockdown lifted
Share - WeChat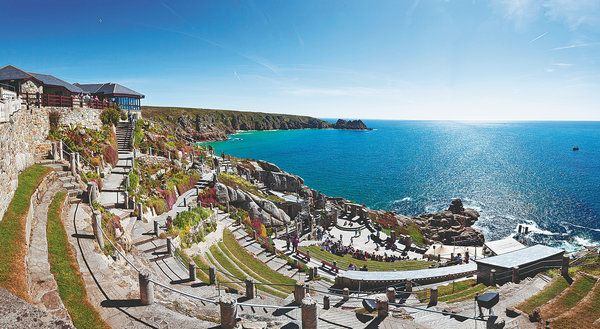 Cornwall has always been a seaside escape, but the county's popularity is now soaring, Wang Mingjie reports.
"Dreckly" is one of the first words that you're likely to hear in Cornwall. It is an expression that means "things will get done when they get done"-a fitting reflection of the rhythm of Cornish life. Almost everything in Cornwall moves at an easy pace, although its people are serious when it comes to scones. Jam first!
Although it sounds innocent, this is a hotly contested battle involving one of Britain's most iconic sweets. The Cornish insist that jam must first coat the scone, before being topped with lashings of rich, clotted cream, whereas their neighbors in Devon believe that cream should precede the jam.
"Jam first, because it sticks really well to the scone. Also, when you take your first bite, you avoid a direct sugar hit from the jam, and the richness of the cream creates an optimal experience for the palate," said local tour guide Louise West, who runs the travel company Experience Cornwall Tours.
In her tours, she enjoys taking her clients for a traditional Cornish cream tea picnic with home-baked scones at Cornwall's most iconic landmarks.
Scones aside, there is much more to this region of England, which boasts majestic granite mountains, sweeping green landscapes spotted with wildflowers, dramatic coastlines, surfer-friendly waves, and imposing, historically rich tin and copper mines.
For British people, Cornwall has always been a popular seaside escape. It isn't uncommon for Londoners to have cottages or summer homes in St Ives, for instance, but the COVID-19 pandemic has caused the popularity of the region to soar.
According to a local, on the first day when lockdown was lifted and British people could travel domestically again, the population in certain areas of Cornwall doubled. Accommodation prices followed suit, increasing by nearly 30 percent as new eager remote workers from cities across the country sought out gardens, larger living spaces and a more leisurely pace of life.
Cornwall's profile as an internationally sought-out destination received a big boost during the G7 Summit in 2021. There was a huge web traffic spike on Cornwall from countries all around the world during the summit, according to Malcolm Bell, chief executive of Visit Cornwall.
The world was captivated by images of British Prime Minister Boris Johnson hosting world leaders and dignitaries at breathtaking beachfront barbecues at Carbis Bay, which has nearly a mile of golden sand that was listed as one of the world's finest by the Most Beautiful Bays in the World Organization.
"In addition to London, Cotswolds, Scotland, Cornwall is now on the wish list of destinations to visit when people come to the United Kingdom," Bell said.