Online exercise puts spring in people's steps
Share - WeChat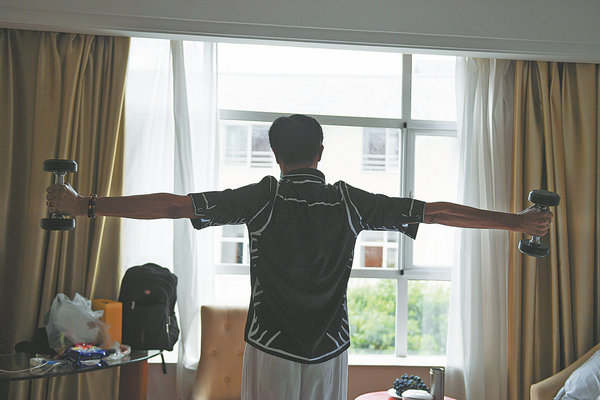 More Chinese are opting to work out at home via the internet
Li Zhibin, 29, plays Ring Fit Adventure, an exercising action role-playing game with his Nintendo Switch console connected to the television, five times a week.
He also plays Just Dance, a series of rhythm-related video games that allow him to dance to background music of popular songs, imitating movements of the on-screen dancers. He prefers to exercise at home rather than go to the gym because he feels more comfortable doing workouts in a familiar environment.
"Combining exercise with video games makes fitness less dull. I've learned many workouts for different functions as well," the office worker from Beijing said.
Amid the ongoing COVID-19 epidemic, more and more Chinese have realized the importance of health and have started exercising at home because of the control and prevention policy that hinders them from going out sometimes.
In addition to such fitness games, they are also choosing to follow the guidance of online exercise short videos or livestreams. A few are seniors, inspired by their families.
According to China Insights Consultancy, the number of people who exercised in China was about 300 million last year, and is expected to rise to 420 million by 2026. It's expected that the value of China's online fitness market will rise from 370.1 billion yuan ($56.44 billion) last year to 895.8 billion yuan in 2026.
Since the COVID-19 epidemic started in 2020, Xu Chun has formed the habit of taking exercise at home every day via livestreamed fitness classes.
Workouts at home are the best option for the 30-year-old because the commute from home to the gym is time-consuming, and she prefers to exercise in a more private place.
In the first three months, she lost 12.5 kilograms due to regular exercise, lifestyle and a healthy diet. Since then, she has kept her weight at about 50 kilograms.
She has made a 3-square-meter space at home into her private gym as she's purchased more exercise equipment, such as an indoor bike, barbells, kettlebells and resistance bands.
Most Popular