When charity becomes a criminal act
Share - WeChat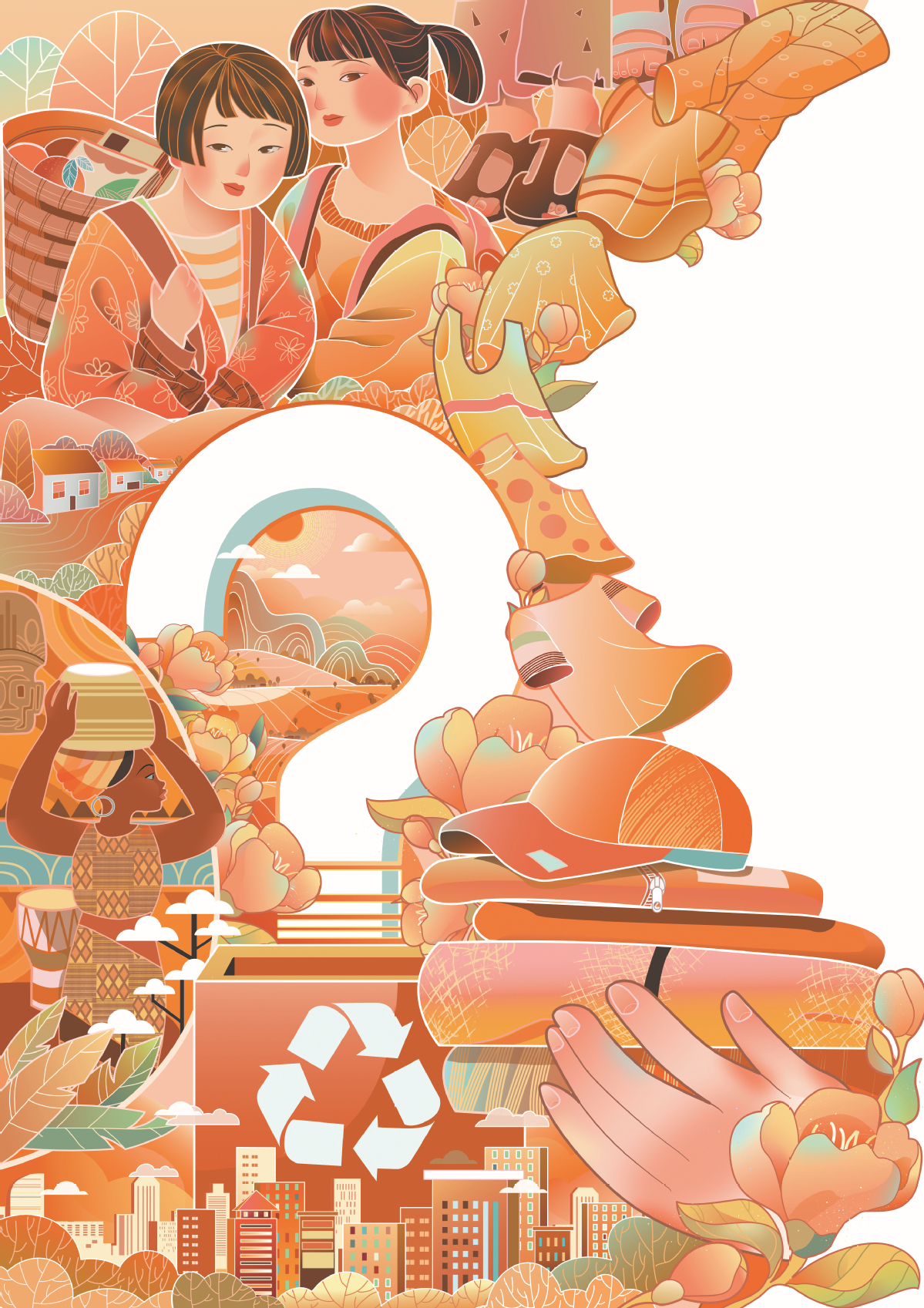 Some crooks are preying on people's goodwill to donate unwanted items, which are then sold for a profit, public warned
As spring arrived, Xia Yiming rearranged her parents' closet and helped them dispose of clothes that no longer fitted or were out-of-style. She usually does this twice a year.
The helpful daughter washed the clothes, sorted them into different bags, and placed them in the clothing donation bins in the community of her parents' home in Fuzhou, Fujian province.
"It is a good way to help the needy and also keeps my mom and dad's closet neat and tidy. The old generation like my parents have a habit of hoarding," she said.
"They always kept used clothes, waiting to give them to some poor relatives or cleaning ladies, but now, very few people wear used clothes, so I just help donating them."
When there was a public emergency, such as flood or earthquake, Xia donated unwanted clothes to needed areas.
However, she never thought the goodwill might go wrong or even help criminals get rich.
'Golden business'
In March, a report from a news outlet ThePaper.cn found that without providing any public fundraising credentials, buyers can order donation bins from China's popular e-commerce platform Taobao at a price of about 400 yuan ($63). Some sellers even suggest that buyers print "charity federation" on the bins to attract more donations.
According to the report, a metric ton of used clothes can be sold for 2,000-2,200 yuan. The report also quoted an insider saying that it is "an easy and golden business", with an annual profit of 500,000-600,000 yuan.
The Ministry of Civil Affairs issued a notice to ban such activities last month.
Recently, some individuals, social organizations and enterprises without any public fundraising qualification collected used clothes in the name of "charity" and "public welfare". Some even sold them for profit, which violates the provision of the Charity Law, jeopardizes donors' legal rights, tarnishes the image of the charity sector and should be prohibited, the notice said.
The ministry also reminded people to check an organization's credentials before handing over a clothes donation.
It is a public fundraising activity to set up used clothes donation bins in public for charitable reasons, the ministry said.
According to the Charity Law, only charitable organizations with public fundraising qualifications can carry out public fundraising activities. Meanwhile, the organizations with credentials should draw up detailed fundraising plans in accordance with charity law, related regulations and policies, and report to the local civil affairs administration.
Information such as the organization's name, public fundraising credentials, contact information and donation tracing, should be printed in prominent places on donation carriers-in this case, the bins.
Organizations are also required to publicize donation and tracing information in order to receive supervision from society.
The ministry urged participants to check organizers' qualifications at cszg.mca.gov.cn, a platform used to disclose national charity information.
If the organizers do not have public fundraising credentials but carry out used-clothes collection activities, residents can report them to local civil affairs administrations.
If illegal activities are found in the name of charity or they are pretending to be operated by a charitable organization but taking property by collecting used clothes, residents can report them to local public security authorities.
Old problem
Zhang Yixun, a charity business insider, told the Red Star News, a media outlet in Sichuan province, that fake charity activities involving used clothes recycling are a difficult problem that has harmed the reputation of China's charity business for years.
In 2019, the ministry issued a reminder to tackle fake charity activities in the realm of recycling used clothes and other waste items. At the same year, the ministry set up the Department of Charity Promotion and Social Work to strengthen the management of charity-related activities.
However, since most of the fake recycling bins are small-scale, the administration is mostly dependent on local governments issuing penalties or tip-offs from communities and residents. It has been difficult to tackle illegal clothes recycling bins, Zhang said. He also noted that the key to manage the misconduct relies on whether local civil affairs departments have managed it properly.
In the illegal enterprise, some good-quality used clothes will be cleaned and sold. Poor-quality clothes will be sold to recycling companies.
Zhang suggested that people exchange their unwanted clothes within their community or between relatives and friends. He also said some valuable used clothes can be sold on second-hand e-commerce platforms or to vintage shops.
Some fast-moving consumer fashion brands recycle used or unwanted clothes. This ensures the donations go through procedures including decomposition and purification to regenerate waste clothing into new fabrics.
"Donation activities began in the 1990s on a regular basis. Back then, without private enterprise or social organization participation, donated used clothes were usually recycled by civil affairs departments that set up donation centers in a community," Wang Zhenyao, president of the China Philanthropy Research Institute, told Red Star News.
China's regular social donation work-which mainly relies on the donation of used clothes-began in 1996. Promoted by the civil affairs system, a regular social donation network consisting of more than 30,000 social donation sites was established nationwide, he added.
"Nowadays, public need for used clothes is weakening, so new ways are needed to take care of secondhand clothes. People can return unwanted clothes to commercial markets with or without being paid," he said. He added that in some foreign countries, goodwill stores are registered as social organizations, where the government provides rooms to recycle the used items and then sorts them to be sold again.
Fraudsters punished
The ministry issued an alert in 2019 to warn of fake charity activities in the name of recycling used items, including clothes.
Last year, the civil affairs administration of Jiangyou city, Sichuan province, punished four fake charitable organizations for setting up used clothes recycling bins. A fine of 20,000 yuan ($3,050) was levied, the bins were removed and the illegal income was confiscated.
In 2020, the civil affairs bureau in Liunan district of Liuzhou, Guangxi Zhuang autonomous region, removed 172 illegally used clothes recycling bins that were without public fundraising qualification or whose owners had failed to report their activities to the bureau.
In addition, involvement from neighborhood residents and property managers is important to regulate charity conduct.
According to the civil affairs bureau in Luzhou, Sichuan province, authorization is required from the housing and rural-urban development department to set up charitable clothes recycling bins in a community, and they are managed by a residence's property management office.
According to an opinion piece in Beijing Youth Daily, there are usually two ways to recycle used clothes in China. One is by public donation, often via bins with charity information placed in a community. The other is for individuals or companies to handle used clothes, who often sell it for a profit.
However, good-quality clothes should not be placed in charitable bins. Some people will take advantage of people's goodwill to carry out illegal activities.
According to the Charity Law, individuals, business owners or organizations will be investigated and punished by the public security authorities for fraudulently obtaining property under the name of charity or impersonating a charitable organization. Sadly, there is no detailed regulation about what punishment they face.
Xia Yiming looked closely at the used clothes recycling bins in her parents' community and found the organizer's information. She also found a new way to handle her parents' used clothes-by leaving a bag at the doorway on the first floor of her parents' building. She sent a message to the neighbors' WeChat group: "Used clothes suitable for those in their 60s. Feel free to pick it up, your neighbor."
Most Popular