Charity challenges asylum move
Share - WeChat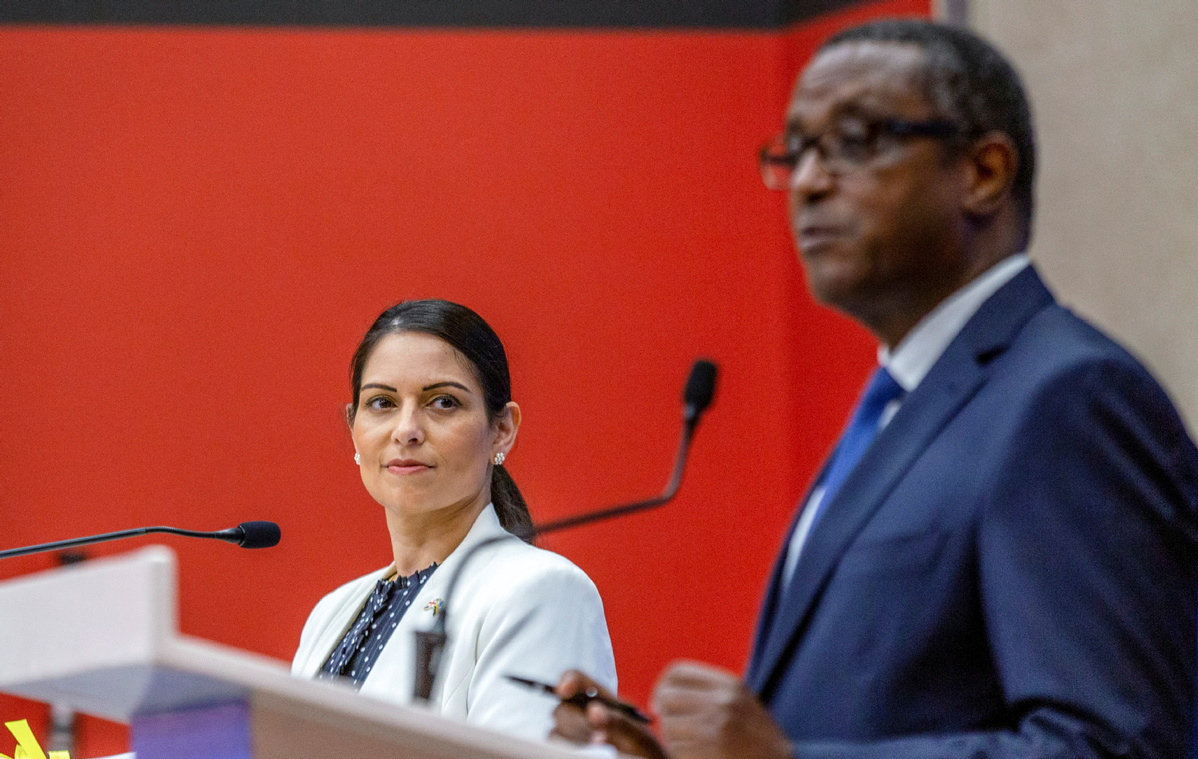 The British government's controversial immigration program to deport asylum-seekers to Rwanda has been legally challenged, after a charity demanded disclosure of detailed plans, citing concerns that the policy breaches international law.
Lawyers for the charity Freedom from Torture said it "has severe concerns about the lawfulness of the policy", in a pre-action letter to the United Kingdom's Home Office.
The Nationality and Borders Bill, which completed its passage through Parliament on Wednesday, will make it a criminal offense to knowingly arrive in the UK illegally.
The bill went through, despite a late bid from the House of Lords' upper chamber to ensure there were provisions within it to comply with the UK's international obligations toward refugees.
It has been described by aid charity Oxfam as a "devastating blow for families fleeing conflict and persecution", while nonprofit Doctors Without Borders labeled it "despicable".
Freedom from Torture's legal demand, which The Guardian reported would likely lead to a judicial review claim, requests Home Secretary Priti Patel to provide details of the strategy to deport the migrants.
The charity's legal team is seeking "disclosure of information regarding the policy", such as documents, risk assessments, and the memorandum of agreement signed by the UK and Rwandan governments.
Filippo Grandi, the United Nations' high commissioner for refugees, warned the bill could "dramatically weaken" international systems for protecting those fleeing wars and persecution, reported The Independent.
Grandi said the new law would seek to "deter the seeking of asylum by relegating most refugees to a new, lesser status with few rights and a constant threat of removal".
Patel signed a deal with Rwanda, which agrees that some of those migrants coming by small boats across the Channel seaway between Britain and France would be flown thousands of miles away to the African country with a one-way ticket.
Rwanda would receive an initial 120 million pounds ($150 million) from the UK as part of an "economic transformation and integration fund" and the UK will also cover operating costs. Prime Minister Boris Johnson has lauded the arrangement as a way to save hundreds of individuals from human trafficking.
A separate legal challenge made this week by the charities Detention Action and Care4Calais claims that sending migrants to Rwanda would be unlawful.
In a statement, Clare Moseley, founder of Care4Calais, said: "From the suspiciously sparse detail presented so far, it is already clear the plan holds multiple risks and innocent people will be needlessly and cruelly traumatized to score political points."